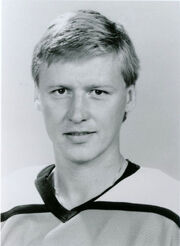 Ilkka Antero Jouko Sinisalo (July 10th 1958 – April 5, 2017) was a Finnish professional right winger who played in the National Hockey League for the Philadelphia Flyers, Minnesota North Stars and Los Angeles Kings.
After the management of HIFK Helsinki noticed him after he posted 38 points in 35 games as a youth with PiTa helensiki against adult competition, Sinisalo signed with them and began playing in the SM-Liiga in 1977. After a first season spent warming up the bench and taking care of fourth line duties, as is the tradition in Finland for youths entering the senior squad, Sinisalo was given the opportunity to prove his worth by playing on the offensive lines. He didn't disappoint, scoring 16 times and racking up 25 points in 1979-80, helping HIFK clinch the League Champion title; the following season, he scored 27 times in 36 games. His skills being impossible to miss, Sinisalo was approached by several NHL teams, including most notably the Hartford Whalers and Philadelphia Flyers. Sinisalo choose to sign as a free agent with the Flyers on February 14th 1981.
The next season, Sinisalo made his NHL debuts on the Flyers' opening night. Two days later, he made history. He picked up his first point, assisting on Bill Barber's power play goal midway in the third period and with 16 minutes 39 seconds played in that same period, Ilkka was awarded a penalty shot. He cleanly beat Pittsburgh Penguins goaltender Paul Harrison to become only the third of five NHL players to score their first goal in the league on a penalty shot (the first was Ralph Bowman of the St. Louis Eagles in 1934-35 NHL season). That earned Sinisalo the games third star.
Sinisalo had his best campaign in 1985-86, scoring 39 times and adding 37 assists for 76 points. His career, however, started declining from the next season, as he struggled with injuries and illnesses. After signing as a free agent with the North Stars in 1990 and finding himself unable to retrieve his scoring touch, he was dealt to the Kings for a draft pick. The Kings demoted him to the Phoenix Roadrunners in 1991; the next season, Sinisalo returned to his homeland where he played with HPK Hämeenlinna, Kärpät Oulu, Ilves Tampere and Blues Espoo before retiring in 1996.
He accepted the role of general manager with Espoo; he held the title until 1998-99. He then was hired by the San Jose Sharks as a scout; he returned to the Flyers' organization in July 2004 as a scout.
Sinisalo died as a result of prostate cancer on April 5, 2017.
External Links
Edit
Community content is available under
CC-BY-SA
unless otherwise noted.