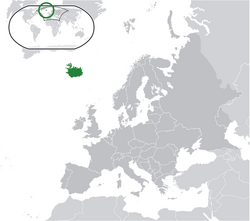 Iceland is an island country in the North Atlantic Ocean. It is considered a part of Europe.
Its population is just over 300,000 and the capital is Reykjavik.
Iceland

Info

Rinks

Players

Referees

25

Population

317,593

Indoor

3

Total

599

Male

--

Capital

Reykjavík

Outdoor

0

Male

64

Female

--

IIHF Since

May 6 1992

Junior

467

Female

68
The Icelandic men's national ice hockey team is a member of the International Ice Hockey Federation. Iceland is ranked 38th in the world by the IIHF World Rankings as of 2008.

Iceland played its first game in 1999 during the 1999 World Championships, losing to Israel 11–0.[1] Since then they have participated in every World Championship and are currently division II after finishing third in the group B tournament.[1][2]
The first hockey games were played in Iceland in 1937. The first national championship was held in 1968-69. After the following season, there were no national championships until 1978-79 and after that the championships were arranged only occasionally.
The Icelandic Skating Association was founded in 1987 and ice hockey formed a division within the Association. Iceland became a member of the International Ice Hockey Federation in 1992.
National Teams
League
See Also