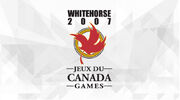 The 2007 Canada Winter Games were held in Whitehorse, Yukon from Friday 23 February 2007 to Saturday 10 March 2007.
Medals
Gold:
Silver:
Bronze:
Ontario: Edward Pasquale, Nathan Moon, Stefan Della Rovere, James Livingston, Adam Henrique, Cody Lindsay, Corey Trivino, Kelly Geoffrey, Steven Stamkos, Cody Hodgson, Mark Cundari, Anthony Nigro, Brandon Burlon, Christopher Carozzi, Michael Del Zotto, Mitchell Gaulton, Tyler Cuma, Michael D'Orazio, Alex Pietrangelo, Nazem Kadri.
Manitoba: Mark Friesen, David Toews, Stephan Vigier, Sanfred King, Braeden Adamyk, Colan Jackson, Cory More, Colin Phaneuf, Jordan Mistelbacher, Shayne Wiebe, Eric Mesterey, Michael Stone, Travis Bobbee, Kyle Birch, Colby Robak, Travis Hamonic, Scott Macaulay, Tyler Schmidt, Paul Van De Velde, Dale Hunt.
Paul Krueger Head Coach
Alberta: Andrew MacWilliam, Tyler Myers, Matthew Fraser, Jordan Rowley, Steven Seigo, Thomas Carr, Matthew Strong, Jordan Eberle, Craig Orfino, Devon Kalinski, Joe Colborne, Lance Bouma, Steele Boomer, Cassidy Mappin, Cole Penner, Kevin King, Philip Gervais, Wacey Hamilton, Jacob DeSerres, Dalyn Flette.
Community content is available under
CC-BY-SA
unless otherwise noted.