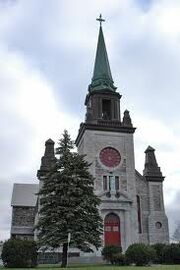 Iberville was a city in south-central Quebec, about 50 km south east of Montreal. It has since merged with the city of St. Jean.
Lucien Larivière, gardien de but,
Charles Choquette, gardien de but.
Alex Beattie, Charles Charron, Alfred St-Louis, Gérard Lavoie, R. Thurston, J. Grégoire, André Choquette, Armand Barabé, Georges Ouimet, Sydney Farrar, E. Forgraves, Hervé. Millette, Jules Gervais, joueurs.
Edmour Bonneau, entraineur.
Alain Tassé, président.
Théophile Choquette, vice-président.
E. St-Laurent, secrétaire.
Alphonse Habel, trésorier.
Dr Henri Laflamme, directeur.
René «Paddy» Martin, gérant.
External Links
Edit
Community content is available under
CC-BY-SA
unless otherwise noted.