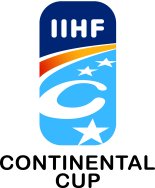 The
Continental Cup
is an
ice hockey
tournament for European clubs, begun in 1997 after the discontinuing of the
European Cup
. It was intended for teams from countries without representatives in the
European Hockey League
, with participating teams chosen by the countries' respective ice hockey associations.
The competition began in 1997-98 with 42 clubs from 26 countries, which expanded to 48 teams for the next two years. The tournament was played in seeded rounds of qualifying groups. There were three rounds of qualifying groups, with winners of qualifying groups progressing to the next round. The three winners of the third round groups entered the semifinals, along with the host club. The first round was held in September, the second in October, the third in November and the finals in December.
In the 2000-01 season, with the European Hockey League on hiatus, the Continental Cup became the de facto European club championship. The format remained the same, with 36 teams from 27 countries.
With the beginning of the IIHF European Champions Cup from 2004–05, participants included national champions of countries not in the Super Six (the top six European nations according to the IIHF World Ranking) as well as teams from Super Six leagues, which included HC Dynamo Moscow and HKm Zvolen.
Season
Winner
Runner-up
Third
Venue
1998
TJ VSŽ Košice
Eisbären Berlin
Ilves
Tampere, Finland
1999
HC Ambrì-Piotta
HC Košice
Avangard Omsk
Košice, Slovakia
2000
HC Ambrì-Piotta
Eisbären Berlin
Ak Bars Kazan
Berlin, Germany
2001
ZSC Lions
London Knights
HC Slovan Bratislava
Zurich, Switzerland
2002
ZSC Lions
HC Milano Vipers
HKm Zvolen
Zurich, Switzerland
2003
Jokerit
Lokomotiv Yaroslavl
HC Lugano
Lugano, Switzerland
Milan, Italy
2004
HC Slovan Bratislava
HK Gomel
HC Lugano
Gomel, Belarus
2005
HKm Zvolen
Dynamo Moscow
Alba Volán Székesfehérvár
Székesfehérvár, Hungary
2006
Lada Togliatti
HK Riga 2000
ZSC Lions
Székesfehérvár, Hungary
2007
Yunost Minsk
Avangard Omsk
Ilves
Székesfehérvár, Hungary
2008
Ak Bars Kazan
HK Riga 2000
Kazzinc-Torpedo
Riga, Latvia
2009
MHC Martin
Dragons de Rouen
HC Bolzano
Rouen, France
2010
Red Bull Salzburg
Yunost Minsk
Sheffield Steelers
Grenoble, France
2011
Yunost Minsk
Red Bull Salzburg
SønderjyskE Ishockey
Minsk, Belarus
2012
Dragons de Rouen[1]
Yunost Minsk
HC Donbass
Rouen, France
2013
HC Donbass
Metallurg Zhlobin
Dragons de Rouen
Donetsk, Ukraine
2014
Stavanger Oilers
HC Donbass
HC Asiago
Rouen, France
IIHF Federation Cup
Edit
The Federation Cup was an official European ice hockey club competition created in 1995. It was the second European competition for club teams, intended for those teams who couldn't qualified for the IIHF European Cup, especially for those from eastern European countries. It was the direct predecessor of the Continental Cup, which was played two seasons later.
In the first year of competition, 13 Eastern European teams from twelve countries participated in the tournament. In a KO-system with three qualifying groups, which qualifies the four participants in the finals.
The following year was played in the same mode. Due to the increased number of participants (some Western European clubs had registered for the competition), an additional qualifying round was introduced.
Federation Cup Winners
Edit
References
Edit
External links
Edit
Community content is available under
CC-BY-SA
unless otherwise noted.