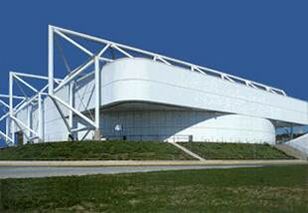 The Hy-Vee Arena then known as the Kemper Arena is a 19,500 seat arena in Kansas City, Missouri. It was the home of the Kansas City Scouts of the National Hockey League in the 1974-75 and 1975-76 seasons.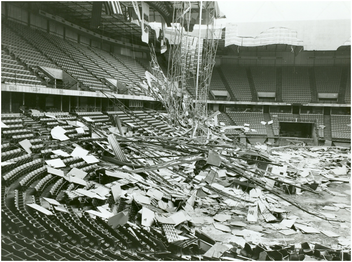 The roof of the building collapses on June 4, 1979 when a major storm with 70mph/110km/h winds and heavy rains.
The facility was sold to the Foutch Brothers for the nominal sum of $1 as it would save the city about $1.2 million per year in maintainence costs.  The arena is being renamed as part of a $39 million renovation project that will convert the facility to a low level facility that could host multiple youth and amateur sporting events at once.  The arena is on the National Register of Historic Places and was the former home to the American Royal Association which hosted rodeo and bbq events at the facility about 20 days a year. The facility was to be renamed the Mosaic Arena after a major renovation to the facility. 
The naming rights deal with Mosaic fell through when Mosaic Life Care was bought by another health care company.  A new deal was worked out with the Hy-Vee grocery store chain. The facility was announced as being called the Hy-Vee Arena when the facility re-opens in September of 2018. [1][2]
It was also the home of the:
References