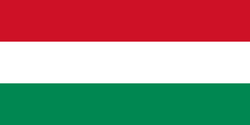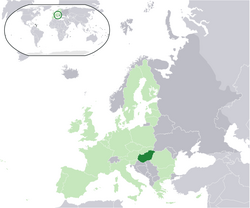 Hungary is a nation in central Europe.
It has a population of about 10,000,000 and its capital is Budapest.
Hungary

Info

Rinks

Players

Referees

62

Population

10,005,000

Indoor

17

Total

2,034

Male

--

Capital

Budapest

Outdoor

11

Male

329

Female

--

IIHF Since

January 24 1927

Junior

1,594

Female

111
The Hungarian men's national ice hockey team has participated in the IIHF European Championships, the IIHF World Hockey Championships and the Olympic Games. They are currently ranked 20th in the world by the IIHF. It is controlled by the Magyar Jégkorong Szövetség. There are no Hungarian players currently playing in North America's National Hockey League; however, three have been drafted to the league: Tamás Gröschl by the Edmonton Oilers, Levente Szuper by the Calgary Flames and János Vas by the Dallas Stars.
The Hungarian team won its group in the 2008 IIHF World Championship Division I, and therefore qualified to play in the Elite Division of the 2009 IIHF World Championship. This is the first time since 1939 that Hungary has qualified to play in the highest division of international hockey.
Hockey was introduced to Hungary by Englishman John Dunlop in 1925 and the first real hockey game in Hungary was arranged the same year. The Hungarian Winter Sports Federation was founded in 1908 and ice hockey was given a division within the federation. The Hungarian Ice Hockey Federation was not founded until 1988.
The country's first artificial ice rink was opened in Budapest in 1926 and Hungary became a member of the International Ice Hockey Federation in 1927.
The same year, the Hungarian national team played its first game losing 0-6 to Austria. The first national championship was held in 1937.
National Teams
Edit
OB I Bajnokság (
)
Interliga A (
,

,

)
Interliga B (

,

)
MOL Liga
Community content is available under
CC-BY-SA
unless otherwise noted.