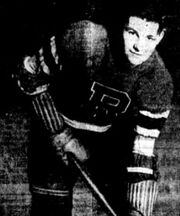 Hubert "Hub" Macey (April 13, 1921 – May 27, 2008) was a Canadian professional ice hockey forward who played 30 games in the National Hockey League for the Montreal Canadiens and New York Rangers. He was born in Big River, Saskatchewan.
He played for the junior Portage Terriers from 1938 to 1941. The Winnipeg Rangers added him to their lineup when they won the Memorial Cup in 1941.
The New York Rangers signed him in 1941 and he saw action with the NHL team in 1941-42 and 1942-43 while spending most of his time in the minor pro and senior ranks. He was a First All-Star with the New York Rovers of the Eastern Hockey League in 1941-42 when he scored 39 goals and 33 assists in just 47 games.
Macey served in the Canadian miltary from 1944 to 1946 during which time he was traded to the Montreal Canadiens. He played 12 games for Montreal in 1946-47.
After this season he returned to the minor pros and senior hockey. He retired in 1957.
In the NHL Macey played in 30 games and scored 6 goals and 9 assists.
Gallery
External Links