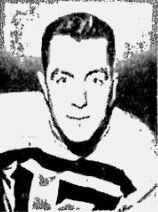 Hubert Wallace Anslow (b. March 23, 1926 in Pembroke, Ontario - d. July 2, 2006 in Ottawa, Ontario Canada) is a former Canadian ice hockey left winger. He played in 2 NHL games with the New York Rangers.
He played for various amateur teams in his hometown from 1939 to 1946, except for 1944-45 when he served in the Canadian military.
In 1946-47 he played for the New York Rovers and was called up for two games by the New York Rangers, scoring no points. He played minor pro hockey until 1951.
That year he returned home and played for the senior Pembroke Lumber Kings until 1955, except for 1953-54 when he played for the senior Hamilton Tigers. He retired in 1956 and then came back for two more amateur seasons in 1958-59 and 1959-60.
External links
[
]