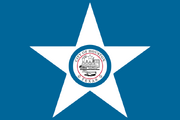 Houston is the largest city in Texas, United States. It has a city population of over 2,200,000 and a metro area of over 5,700,000.
It has never had an NHL team but had the WHA Houston Aeros from 1972-78.
NHL Aspirations
Edit
The Houston Aeros of the World Hockey Association had tried to join the National Hockey League seperate of the other members of the WHA and would fold after  the attempt.  A newer versition of the Aeros played in the IHL and AHL from 1994 to 2013.  This team would relocate to Des Moines, Iowa for the 2013-14 season.
The present major arena in Houston is the Toyota Center which is home to the Houston Rockets of the National Basketball Association.  The lease with the facility states that only an NHL team owned by the owner of the Rockets is allowed to play at the arena.  In 1998 then Rockets owner Les Alexander attemped to purchase the Edmonton Oilers and relocate the team to Houston.  This was thwarted when a local Edmonton group purchased the Oilers. 
In 2017 the Toyota Center and the Houston Rockets were sold to Tilman Fertiitta.  He would later hold a press conference and express an interest in bringing an NHL team to the arena. 
(International Hockey League, 1994-2001) join AHL when league folds
(American Hockey League, 2001-2013) franchise relocated to Des Moines, Iowa renamed Iowa Wild
(Central Professional Hockey League, 1965-1968) league renamed Central Hockey League
(Central Hockey League, 1968-1969) suspended operations
Central Hockey League, (1979-January 8, 1981) suspended operations

note: team known as Houston Luckies of two leagues named the Pacific Northwest Hockey League of the 1970's was based in British Columbia, Canada.
Compaq Center (1975-2003) formerly known as "The Summit" until 1998, now a house of worship
Sam Houston Coliseum (1937-1998) (1946-1981 for Hockey)
Toyota Center  (October 6, 2003-Present)
Polar Ice
Sharptown Ice Center
Ice Skate USA
Aerodrome-Willowbrook
Space City Ice Station
Championships
Edit
External Links
Edit
Community content is available under
CC-BY-SA
unless otherwise noted.