Honda Center
"The Pond", "The Duck Pond"
Location
2695 E. Katella Avenue, Anaheim, California 92806
Broke ground
June 1991
Opened
June 19 1993
Owner
City of Anaheim
Operator
Anaheim Arena Management, LLC
(a Anaheim Ducks subsidiary)
Construction cost
$123 million
Architect
Populous (formerly HOK Sport)
Former names
Anaheim Arena (1993)
Arrowhead Pond of Anaheim (1993-2006)
Tenants
Anaheim Ducks (NHL) (1993-present)
Los Angeles Clippers (National Basketball Association) (occasional games 1994-1999)
Anaheim Bullfrogs (Roller Hockey International) (1993-1997)
Anaheim Splash (Continental Indoor Soccer League) (1994-1997)
Anaheim Piranhas (Arena Football League) (1996-1997)
Anaheim Storm (National Lacrosse League) (2004-2005)
Capacity
Basketball: 17,600
Ice hockey: 17,174
Concert: 18,325
Theatre: 8,400
The Honda Center, previously known as the Arrowhead Pond of Anaheim and colloquially called the The Pond, is an indoor arena in Anaheim, California. The arena is home to the NHL's Anaheim Ducks and was home of the former National Lacrosse League's Anaheim Storm, which folded in 2005. Originally named the Anaheim Arena, it was completed in 1993 at a cost of $123 million. Arrowhead Water paid $15 million for the naming rights over 10 years in October 1993]. Honda later acquired the naming rights to the arena for $60 million over 15 years which changed its name in October 2006.
The arena opened on June 19, 1993, with a Barry Manilow concert as its first event. Since then, it has been host to a number of events, such as the 2003 and 2007 Stanley Cup Finals. On June 6, 2007, the Anaheim Ducks defeated the Ottawa Senators, 6–2, in Game 5 of the Finals at Honda Center to clinch the franchise's first-ever Stanley Cup championship. The Ducks have never lost a Finals game played at the arena (in 2003, all the games in the final were won by the home team).
It has hosted the NCAA Men's Ice Hockey Championship (the Frozen Four) in 1999.

Honda Center lies northeast across California State Route 57 from Angel Stadium (where Major League Baseball's Los Angeles Angels play) and roughly 3 miles from Disneyland Park. It is also walkable from Anaheim Amtrak station, which is located on Angel Stadium's parking lot.
The arena seats up 17,174 for its primary tenant, the Ducks. It takes only five hours to convert Honda Center from a sporting arena to an 8,400-seat amphitheater. There are 84 luxury boxes in the building, which has hosted 17.5 million people, as of 2003.
Broadcom chairman and billionaire, Henry Samueli, owns the company that operates the arena, Anaheim Arena Management, LLC, and the arena's primary tenant, the Ducks, giving him great flexibility in scheduling events and recruiting new tenants. Samueli hopes to bring a National Basketball Association franchise to the arena.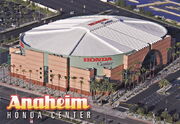 External links