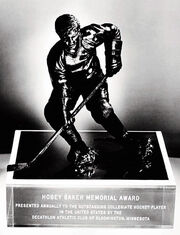 The Hobey Baker Award is an annual award given to the top National Collegiate Athletic Association men's ice hockey player. It has been awarded 36 times.
It is named for hockey player and World War I veteran Hobey Baker, who played collegiately at Princeton University and learned the game at St. Paul's School (Concord, New Hampshire).
The original statue for the award was commissioned and awarded by the Decathlon Athletic Club (now defunct) in Bloomington, MN. The model for the award trophy was Steve Christoff, who played for Richfield Minnesota High School, the University of Minnesota, the 1980 U.S. Olympic hockey team and in the National Hockey League.[1]
Award winners
Winners

| Year | Winner | Position | School | Born |
| --- | --- | --- | --- | --- |
| 1981 | Neal Broten | Center | Minnesota | Roseau, Minnesota |
| 1982 | George McPhee | Left Wing | Bowling Green | Guelph, Ontario |
| 1983 | Mark Fusco | Defense | Harvard | Burlington, Massachusetts |
| 1984 | Tom Kurvers | Defense | Minnesota–Duluth | Minneapolis, Minnesota |
| 1985 | Bill Watson | Right Wing | Minnesota–Duluth | Pine Falls, Manitoba |
| 1986 | Scott Fusco | Center | Harvard | Burlington, Massachusetts |
| 1987 | Tony Hrkac | Center | North Dakota | Thunder Bay, Ontario |
| 1988 | Robb Stauber | Goaltender | Minnesota | Duluth, Minnesota |
| 1989 | Lane MacDonald | Left Wing | Harvard | Tulsa, Oklahoma |
| 1990 | Kip Miller | Center | Michigan State | Lansing, Michigan |
| 1991 | David Emma | Center | Boston College | Cranston, Rhode Island |
| 1992 | Scott Pellerin | Left Wing | Maine | Shediac, New Brunswick |
| 1993 | Paul Kariya | Left Wing | Maine | Vancouver, British Columbia |
| 1994 | Chris Marinucci | Left Wing | Minnesota–Duluth | Grand Rapids, Minnesota |
| 1995 | Brian Holzinger | Center | Bowling Green | Parma, Ohio |
| 1996 | Brian Bonin | Center | Minnesota | Saint Paul, Minnesota |
| 1997 | Brendan Morrison | Center | Michigan | Pitt Meadows, British Columbia |
| 1998 | Chris Drury | Left Wing | Boston University | Trumbull, Connecticut |
| 1999 | Jason Krog | Center | New Hampshire | Fernie, British Columbia |
| 2000 | Mike Mottau | Defense | Boston College | Boston, Massachusetts |
| 2001 | Ryan Miller | Goaltender | Michigan State | East Lansing, Michigan |
| 2002 | Jordan Leopold | Defense | Minnesota | Golden Valley, Minnesota |
| 2003 | Peter Sejna | Left Wing | Colorado College | Liptovský Mikuláš, Czechoslovakia |
| 2004 | Junior Lessard | Right Wing | Minnesota–Duluth | Saint-Joseph-de-Beauce, Quebec |
| 2005 | Marty Sertich | Center | Colorado College | Roseville, Minnesota |
| 2006 | Matt Carle | Defense | Denver | Anchorage, Alaska |
| 2007 | Ryan Duncan | Left Wing | North Dakota | Calgary, Alberta |
| 2008 | Kevin Porter | Center | Michigan | Northville, Michigan |
| 2009 | Matt Gilroy | Defense | Boston University | North Bellmore, New York |
| 2010 | Blake Geoffrion | Center | Wisconsin | Plantation, Florida |
| 2011 | Andy Miele | Left Wing | Miami (OH) | Grosse Pointe Woods, Michigan |
| 2012 | Jack Connolly | Center | Minnesota–Duluth | Duluth, Minnesota |
| 2013 | Drew LeBlanc | Center | St. Cloud State | Duluth, Minnesota |
| 2014 | Johnny Gaudreau | Left Wing | Boston College | Salem, New Jersey |
| 2015 | Jack Eichel | Center | Boston University | North Chelmsford, Massachusetts |
| 2016 | Jimmy Vesey | Left Wing | Harvard | Boston, Massachusetts |
| 2017 | Will Butcher | Defense | Denver | Madison, Wisconsin |
| 2018 | Adam Gaudette | Center | Northeastern Huskies | Braintree, Massachusetts |
| 2019 | Cale Makar | Defense | UMass Minutemen | Calgary, Alberta |
| 2020 | Scot Perunovich | Defense | Minnesota–Duluth | Hibbing, Minnesota |
Winners by school

Winners by place of birth

| Birthplace | Winners |
| --- | --- |
| Minnesota | 10 |
| Massachusetts | 6 |
| Michigan | 4 |
| British Columbia | 3 |
| Alberta | 2 |
| Ontario | 2 |
| Alaska | 1 |
| Connecticut | 1 |
| Czechoslovakia | 1 |
| Florida | 1 |
| Manitoba | 1 |
| New Brunswick | 1 |
| New Jersey | 1 |
| New York | 1 |
| Ohio | 1 |
| Oklahoma | 1 |
| Quebec | 1 |
| Rhode Island | 1 |
| Wisconsin | 1 |

Winners by position

| Position | Winners |
| --- | --- |
| Center | 16 |
| Left Wing | 11 |
| Defense | 9 |
| Goaltender | 2 |
| Right Wing | 2 |
Hobey Baker Award Recipients Gallery
See also
References
External links