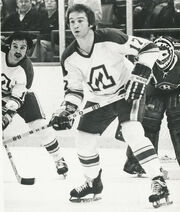 Hilliard Donald Graves (born October 18, 1950 in Saint John, New Brunswick) is a retired professional ice hockey player who played 556 games in the National Hockey League. He played for the California Golden Seals, Atlanta Flames, Vancouver Canucks, and Winnipeg Jets.
He played junior hockey with the Charlottetown Islanders but was not drafted by an NHL team. The California Golden Seals signed him as a free agent in 1970,
Graves played two fine seasons for the Seals in 1972-73 and 1973-74 and was then traded to the Atlanta Flames for John Stewart. In 1977 the Vancouver Canucks accquired him.
He was left unprotected in the 1979 NHL Expansion Draft and was chosen by the Winnipeg Jets. After one season with the Jets and some minor league teams, Graves retired in 1980.
Graves scored 118 goals and 163 assists in 556 NHL regular season games. However, he only played in 2 playoff games.
Awards
External links