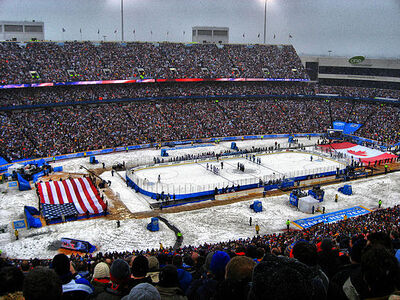 Highmark Stadium formerly New Era Field and Ralph Wilson Stadium is an 80,000 seat football stadium in Orchard Park, New York. It is the home of the National Football League's Buffalo Bills.
On January 1, 2008, it was home to the first NHL Winter Classic as the Buffalo Sabres hosted the Pittsburgh Penguins with Pittsburgh winning 2-1 in a shootout in from of 71,217 spectators.
The stadium would also host an outdoor game between the United States men's national junior ice hockey team and Canada national junior hockey team as part of the 2018 World Junior Ice Hockey Championships with the United States winning 4-3 in a shootout in front of a crowd 44,592. The remainder of the tournament was held at the KeyBank Center and HarborCenter.