Hersheypark Arena
Location
Hershey, Pennsylvania
Built
1936
Opened
Owner
Operator
Hershey Entertainment and Resorts Company
Surface
Ice hockey rink
Former names
Hershey Sports Arena
Tenants
Hershey Bears (AHL) (1936-2002)
Hershey Impact (National Professional Soccer League) (1988-1991)
Lebanon Valley College (ECAC Div. III) (1998-present)
Shippensburg University of Pennsylvania (DVCHC Div. III) (19??-present)
Capacity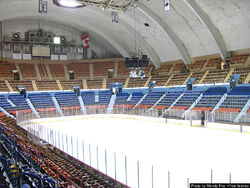 Hersheypark Arena, is a multi-purpose indoor arena located in Hershey, Pennsylvania. Built in 1936, it was originally known as the Hershey Sports Arena. The arena has a seating capacity for hockey of 7,286 people, and in excess of 8,000 including standing room.
It was home to the Hershey Bears of the American Hockey League, who moved to the GIANT Center in 2002. The Bears still use the arena as their practice facility. The Arena also played host to some National Hockey League exhibition games, and hosted 18 Calder Cup finals, and three American Hockey League All-Star games. Today it is the home rink for the Lebanon Valley College and the Shippensburg University of Pennsylvania ice hockey teams, as well as the Hershey JR Bears, a youth team sponsored by the Bears organization. On most weekends during the fall and winter months, the rink is open to the public for ice skating.
The second sport at the Hersheypark Arena was basketball. On March 2, 1962, Philadelphia Warriors center Wilt Chamberlain recorded a record-setting 100 points in a National Basketball Association game against the New York Knicks at the Hersheypark Arena.
The arena sustained damage to the roof in a July 5, 2012 fire.
External links
Edit
Community content is available under
CC-BY-SA
unless otherwise noted.