The Heritage Junior Hockey League is a Junior "B" ice hockey league in Alberta, Canada, sanctioned by Hockey Canada. The HJHL was founded in 1987 and is made up of teams from southern and central Alberta. The HJHL is the largest Junior B league in the province, with 15 teams competing in 2009-10.
As one of the largest Junior B leagues in Alberta, both the league champion, and the losing finalist qualify for the Alberta Provincial Junior B Hockey Championship. The winner of this tournament earns the right to compete for the Western Canadian Junior "B" Crown, the Keystone Cup.
The Cochrane Generals have captured the 2007-08 & 2008-09 league championships. The Blackfalds Ford Wranglers won the 2009-10 championship.
The Banff Academy Bears announced they would not be participating for the 2017-18 season.
The Lomond Lakers were added to the league for 2018-19
Current Teams (2018-19)
Edit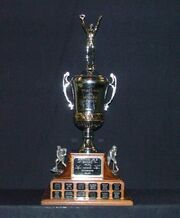 Champions
Edit
2019 - Airdrie Thunder
2018 - Red Deer Vipers
2017 - Red Deer Vipers
2016 - Mountainview Colts
2015 - Coaldale Copperheads
2014 - Okotoks Bisons3
2013 - Okotoks Bisons
2012 - Okotoks Bisons
2011 - Okotoks Bisons2
2010 - Blackfalds Ford Wranglers
2009 - Cochrane Generals
2008 - Cochrane Generals
2007 - Lacombe Wranglers
2006 - Okotoks Bisons1
2005 - Okotoks Bisons
2004 - Red Deer Vipers

2003 - Foothills Bisons
2002 - Foothills Bisons
2001 - Foothills Bisons
2000 - Airdrie Thunder
1999 - Red Deer Viper
1998 - Airdrie Thunder
1997 - Foothills Bisons
1996 - Foothills Bisons
1995 - Lacombe Wranglers
1994 - Lacombe Wranglers
1993 - Lacombe Wranglers
1992 - Ponoka Knight Hawks
1991 - Hobbema Knight Hawks
1990 - Terraco Knights
1989 - Red Deer Cowboys
1988 - Barrhead Jr. Elks
Bold denotes won Alberta provincial title
1League finalists Red Deer Vipers captured the Alberta Provincials and Keystone Cup championship
2League finalists Blackfalds Wranglers captured the Alberta Provincials and Keystone Cup championship
3League finalists Blackfalds Wranglers captured the Alberta Provincials
External links
Edit