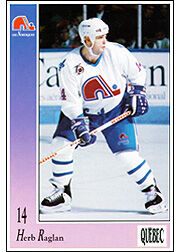 Herb Raglan (born August 5, 1967 in Peterborough, Ontario) is a retired professional ice hockey player who played 343 games in the National Hockey League with the St. Louis Blues, Quebec Nordiques, Tampa Bay Lightning, and Ottawa Senators.
He started out with the junior Kingston Canadians and was chosen 37th overall by the St. Louis Blues in the 1985 NHL Entry Draft. Raglan was a regular with the Blues until he was traded to the Quebec Nordiques in the 1990-91 season.
After playing for a season and a half with the Nords, Raglan was sent down to the Halifax Citadels in the 1992-93 season, his first stint in the minor pros. That season he was traded to the Tampa Bay Lightning but could not make that team either, The Ottawa Senators signed him in 1993 and he played his last NHL games for them in 1993-94.
Raglan played four seasons in the minor pros, mostly with the Brantford Smoke. He retired in 1998.
He played in 343 NHL games, scoring 33 goals and 56 assists.
He is the son of Clare Raglan.
External links
[
]