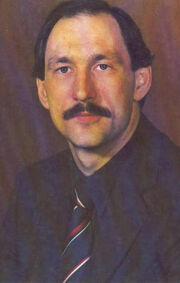 Helmut Balderis (b. July 31, 1952 in Riga, U.S.S.R.) is a retired professional right winger.
Balderis, who is one of the most prolific Latvian hockey player ever, began his career with the Dinamo Riga in 1968-69, while the club was playing in the Third Division. His excellent play helped the Dinamo climb the ladder to reach the Soviet Hockey League in 1973. He would play with Riga until 1977-78, season where he joined the CSKA Moskva; he returned to the Dinamo in 1980 until 1985. That year, he retired to become a coach in Japan. He however returned in 1989, when Soviet players were allowed in the National Hockey League.
The Minnesota North Stars drafted him in the 1989 NHL Entry Draft 238th overall (12th round). Balderis joined the North Stars and played 36 games in the NHL, scoring thrice and adding twice as many assists, good for nine points. He became the oldest drafted player (36 years old) and the oldest player to score his first NHL goal (37). At the end of the season, he retired once again, only to come back when Latvia regained its independence.
He played in the new national championship, as well as for the equally new Latvian National Team. He later became its coach, then its general manager. Today, Balderis is a member of the Latvijas Hokeja Federācija, the Latvian Hockey Federation.
He was inducted to the International Hockey Hall of Fame in 1998.