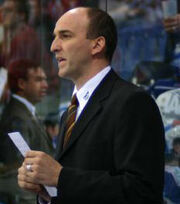 Helmut de Raaf (born November 5, 1961, in Neuss, Germany) is a retired German goaltender and the coach of Adler Mannheim's junior team. He has been the coach there since 2000.
De Raaf started out with the Düsseldorfer EG team in 1980 and then moved to Kölner EC in 1983. In 1988 he went back to Dusseldorf until 1996. He spent his last three seasons with Adler Mannheim, retiring in 2001.
He played for West Germany in the 1988 Olympics and then played for Germany in the 1992 and 1994 Olympics.