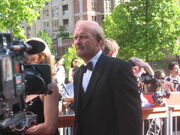 The Buffalo Sabres are a professional ice hockey team based in Buffalo, New York. They are members of the Northeast Division in the Eastern Conference of the National Hockey League (NHL). There have been 14 head coaches of the Buffalo Sabres since the team's debut in the 1970–71 NHL season.
Punch Imlach, Scotty Bowman, Marcel Pronovost and Roger Neilson have all made it to the Hockey Hall of Fame,[1][2] while Lindy Ruff, Ted Nolan and Scotty Bowman have all won the Jack Adams Award, an honor given annually to the National Hockey League coach "adjudged to have contributed the most to his team's success".[3] The first head coach, Hall of Famer Punch Imlach, has the lowest winning percentage of any Sabres coach, with a .370 winning percentage during his 120-game tenure.[4] He is followed by Craig Ramsay who coached the team to a .412 record from 1986 to 1987.[5] Floyd Smith has the best coaching record in terms of winning percentage, with a .503 record, during his term from 1974 to 1977.[6] He is followed by his successor, Hall of Famer Marcel Pronovost, who coached the Sabres to a .611 record from 1977 to 1978.[7]
The Sabres have made two appearances in the Stanley Cup Finals, losing four games to two against the Philadelphia Flyers in 1975, under Smith, and again four to two against the Dallas Stars in 1999, under Ruff. Ruff has led the Sabres into the playoffs from 1997 to 2001 and again from 2005 to 2007. The Sabres did not make it into the playoffs in the 2008 season.[8]
Key
[
]
      Elected to the Hockey Hall of Fame

Coaches
[
]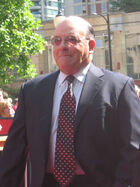 References
[
]