Hayley Wickenheiser
Position
Forward
Shoots
Right
Height
Weight
5 ft 10 in (1.78 m)
170 lb (77 kg)
CIS Team
Calgary Dinos
Born

Shaunavon, Saskatchewan
August 12, 1978,
Pro Career
1994 – present
Hayley Wickenheiser (born August 12, 1978) is a women's ice hockey player from Canada. She was the first woman to play full time professional hockey in a position other than goalie. Wickenheiser has represented Canada at the Winter Olympics four times, capturing three gold and one silver medal, twice being named tournament MVP.
Hockey career
[
]
Minor hockey
[
]
Wickenheiser started her hockey career in her hometown of Shaunavon when she was eight years old. She played on boys' teams until she was 13.[1] In 1991, she was a member of Team Alberta in the Canada Winter Games for the Under-17 Girls' competition, where she helped her team to a gold medal victory by scoring the game winning goal and was named Most Valuable Player of the final game.[2][3] While playing in the Calgary minor hockey system, Wickenheiser took home numerous awards, including team MVP honours for the 1993-94 season, and the Harley Swain Memorial Award for dedication to hockey throughout Calgary's AAA bantam system.[3]
International
[
]
At the age of 15 (1994), Wickenheiser was named to Canada's National Women's Team for the first time and has remained a member since. Her first international tournament was the 1994 World Championship, held in Lake Placid, New York. She played three games, and picked up her first international point - an assist, and Canada won gold. Her second World Championship in 1997 also produced a gold medal and she earned a spot on the tournament All-Star team, the first of four such honours (1997, 1999, 2000, 2005). In 1999, Wickenheiser helped Canada to another gold medal and was named tournament MVP. Wickenheiser has six World Championship gold medals (1994, 1997, 1999, 2000, 2004, 2007) and three silver medals (2005, 2008, 2009). She was named to Team Canada in 2001, but was unable to compete due to an injury, and was also on Canada's roster for the 2003 World Championship which was canceled.[4]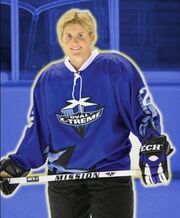 Wickenheiser was a member of Team Canada at the 1998 Winter Olympics, when women's hockey was introduced as a medal event. She also played 21 games for Team Canada during their pre-Olympic tour. Canada won a silver medal at the event and Wickenheiser was named to the tournament all-star team. Her performance at the 1998 Olympics impressed Men's Team Canada General Manager Bobby Clarke so much, that he invited her to participate in the Philadelphia Flyers rookie camps in 1998 and 1999.[5] 2002 was another chance at Olympic gold, and Wickenheiser was named to Canada's roster for the 2002 Winter Olympics held in Salt Lake City, Utah. On Team Canada's pre-Olympic tour, Wickenheiser played 26 games and racked up 36 points. In a bit of redemption for 1998, Canada won the gold medal by defeating Team USA in the final game. Wickenheiser was named Tournament MVP and she was the top scorer on the Women's side.[3] At the 2006 Winter Olympics, Canada was defending its gold medal status. When the final match was set, Canada was facing off against Sweden, a surprise finalist. They won gold again, and Wickenheiser once more was named tournament MVP, Top Forward, and to a berth on the all-star team. She also led the tournament in scoring.[3][4]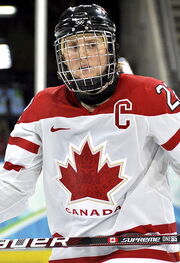 Wickenheiser captained Canada to a gold medal at the 1998 Christmas Cup (World Women's Under-22 Championship). She has also contributed to 11 gold medals for Canada at the 4 Nations Cup tournaments (1996, 1997, 1999, 2000, 2001, 2002, 2003, 2004, 2005, 2006, 2007). At the 2006 Four Nations Cup, she served as team captain.[4] On February 17, 2010, Wickenheiser became the all-time leading Olympic goal scorer as Canada defeated Sweden 13-1. Wickenheiser reached her record total of 16 career Olympic goals by scoring once on Wednesday as Canada followed up their 18-0 win over Slovakia and 10-1 defeat of Switzerland.[6] With a third consecutive Olympic gold medal in Women's hockey by defeating the United States of America 2-0, Hayley now has 4 Olympic medals: 3 gold, 1 silver.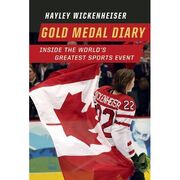 Professional
[
]
In 2003, Wickenheiser became the first woman to score a goal playing in a men's professional league. Over the course of the season, Wickenheiser played 23 games, scoring 2 goals and adding 10 assists.[3][4][5] Wickenheiser joined a European league to play professional hockey, as the game is more open and less physical than North American leagues. This attempt to play professional hockey was not an entirely smooth process, as Wickenheiser was initially slated to play in Italy, until the Italian Winter Sports Federation ruled that women were ineligible to play in a men's league. She also turned down an offer from Phil Esposito to play for the Cincinnati Cyclones of the ECHL. Finland's Hockey Federation unanimously supported letting women play in a men's league, allowing her to debut with HC Salamat in the Suomi-sarja, the third highest hockey league in Finland, on January 10, 2003.[7] Wickenheiser played briefly with Salamat in 2004. They had won promotion to Mestis, Finland's second tier of professional hockey, and this was not as good a fit for her. She left the team after ten games.
In 2007, Wickenheiser had a week-long tryout contract with Swedish club IFK Arboga IK in the Swedish male third league. After two practice games, where Wickenheiser scored two goals in the first game, she was not offered a contract.[8] In 2008, Wickenheiser signed a one year contract with Eskilstuna Linden, also in the Swedish men's third league.[9][10] Wickenheiser was named one of the "Top 100 Most Influential People in Hockey" by The Hockey News (ranked #59 on the 2011 List)[11], one of the "25 Toughest Athletes" by Sport Illustrated[12] and one of the "Top 50 Most Powerful Women in Canada" by the Globe and Mail
University
[
]
Wickenheiser joined the 2010–11 Univeristy of Calgary Dinos women's ice hockey season that competes in the Canadian Interuniversity Sport (CIS).[13] The Dinos are playing their second season of CIS hockey, and Wickenheiser is expected to provide leadership to a young team.[13] While with the Dinos, Wickenheiser will be playing for her former teammate, Danielle Goyette, who is the team's head coach. Wickenheiser will be working to complete a degree in kinesiology at Calgary.[13] The Dinos were Wickenheiser's choice because the team practices every day, and she was able to stay in Calgary with her family.[13] Under CIS rules, Wicknheiser is in her first year of eligibility because she has never played university hockey. She would have up to five years of eligibility.[13] In her CIS debut against the University of Regina, Wickenheiser scored two goals and added an assist in a 4–3 victory.[14] A crowd of over 500 people attended her CIS debut in Regina.[15] Wickenheiser was named the Canada West female athlete of the week on November 2, 2010 after scoring three goals and adding an assist in two games against the University of Alberta.[16]. On March 9, 2011, Hayley Wickenheiser was named the Canadian Interuniversity Sport player of the year in women's hockey. She the became the first ever Dino to win the Brodrick Trophy as CIS MVP.
Personal
[
]
Her cousin was the late National Hockey League player, Doug Wickenheiser. She also has an adopted son named Noah.
Career statistics
[
]
Awards and honors
[
]
2007 Canadian Press Feamle Athelte of the Year (She was the first women's hockey player to receive the honour)[17]
2007 Bobbie Rosenfeld Award
2011 Brodrick Trophy (CIS MVP)
Media All-Star team, 2011 IIHF Women's World Championship[18]
References
[
]