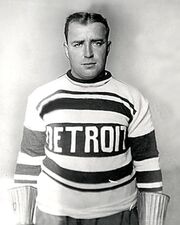 Harvey Rockburn (August 20, 1908 in Ottawa, Ontario - June 8 1977) was a retired professional ice hockey player who played 94 games in the National Hockey League. He played for the Detroit Red Wings and Ottawa Senators.
Rockburn started out in amateur hockey in his hometown, playing senior hockey with the Ottawa Gunners and the Ottawa Shamrocks. He spent the 1926-27 season with the Berlin Mountaineers of the New England Hockey League.
He turned pro with the Detroit Olympics in 1927 and played with them for two seasons. In 1929-30 he played with the Detroit Cougars and in 1930-31 with the renamed Falcons. In those two NHL seasons he only scored 4 goals and 1 assist so he found himself back in the minors again in 1931-32.
Rockburn continued to play in the pros until 1937-38 but, except for a 16 game stint with the Ottawa Senators in 1932-33, it was all in the minors.
In the NHL he played in 94 games and scored 4 goals and 2 assists.
He sat out the 1938-39 season so he could be reinstated as an amateur and play for Ottawa Lasalle in 1939-40. He retired at the end of that season.
External links
Edit
Community content is available under
CC-BY-SA
unless otherwise noted.