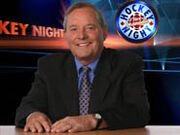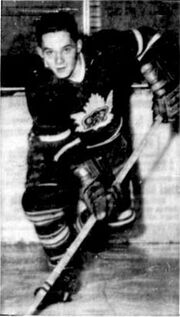 Harry Neale (born March 9, 1937 in Sarnia, Ontario, Canada) is a color commentator for for Hockey Night in Canada on the CBC.
He has worked in broadcasting since 1984. That year, he was first teamed with play-by-play man Bob Cole on CBC. Together, the pair have broadcast 23 Stanley Cup Finals.
Coaching career
Edit
Prior to his broadcasting career, Neale was an NHL head coach for the Detroit Red Wings and Vancouver Canucks where he was also the General Manager from 1982–83 to 1984–85. In the WHA he coached the New England Whalers and Minnesota Fighting Saints, and in the OHA he coached the Toronto Marlboros. He was also an assistant coach of the U.S. team at the 1976 Canada Cup. In the 1977/78 WHA season he coached the Whalers to the Avco Cup Finals as well only to lose to the Winnipeg Jets.
Vancouver Canucks
Edit
In the 1981–82 NHL season he was the coach for the Canucks up until their run to the Stanley Cup Finals where they were swept by the New York Islanders. He had served as Canucks coach, but got suspended for an altercation during a game in Quebec City against the Nordiques.
During his coaching career, he was known for his dry wit, which came out in comments to the media. One of his most famous quotes came when he was coaching the Canucks during the 1981–82 season, when he quipped, "Last season we couldn't win at home. This season we can't win on the road. My failure as a coach is I can't think of any place else to play."
Broadcast career
Edit
As a color commentator, Neale has covered the 1998, 2002, and 2006 Winter Olympics and the World Cup of Hockey in 1996 and 2004 alongside Bob Cole. He is known for the same sense of humor he was famous for as a coach, often referring to the puck as "..bouncing like an Indian Rubber (lacrosse) ball", as well as for his estimations of exact distances on the ice. For example, ". . . a shot from thirty-eight feet out . . .". In sportscasting, he often refers to a weak goal as one with an "odor" to it. Other humorous calls include Neale describing Sean Avery as "liked about as much as a rattle snake at a picnic" and humorously commenting on Avery's outspokeness, saying "Avery's got more tongue than a lumberjacks boot."
}}
Community content is available under
CC-BY-SA
unless otherwise noted.