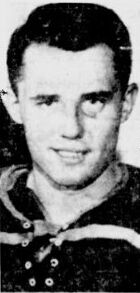 Harrison Gray (born September 5, 1941 in Calgary, Alberta) was a professional Goaltender who played in one game for the Detroit Red Wings of the National Hockey League.
He played junior hockey for the Edmonton Oil Kings from 1959–62, which was a Red Wings farm team at the time. He turned pro in the Wings' system in 1962-63. In 1963-64, Gray replaced the injured Terry Sawchuk in a 7-3 loss to the Montreal Canadiens.
Gray went on to play five seasons in the Eastern Hockey League. After one season with the senior Drumheller Miners he retired in 1970.