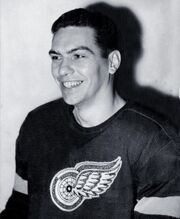 Harold Russell "Hal" Jackson (August 1, 1918 – January 30, 1997) was a professional ice hockey defenceman who played 219 games in the National Hockey League. He played for the Detroit Red Wings and Chicago Black Hawks. He won the Stanley Cup with Chicago in 1938, and in Detroit in 1943. He was born in Cedar Springs, Ontario.
He played junior hockey with the Windsor Wanderers and St. Michaels College from 1933 to 1936. In 1936-37 he turned pro with the Chicago Black Hawks. A collarbone injury limted his playing time the next season but he still managed to participate in the Hawks' Stanley Cup win in 1938.
Jackson played from 1938 to 1940 in the minor pros before the Detroit Red Wings accquired him in December, 1940. He saw limited ice time with the Red Wings until 1943-44, but won another Stanley Cup in 1943. Starting in 1943-44 Jackson was a full-timer with the Wings through the 1946-47 season. He played 1947-48 with the Buffalo Bisons and then retired.
In 219 NHL games, Jackson scored 17 goals and 34 assists.
External links
[
]