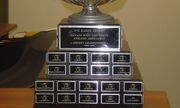 Not to be confused with the Hardy Cup, formerly awarded to the Intermediate (latterly Senior AA) national champion.
The Hardy Trophy is awarded to the champion of the Canada West Universities Athletic Association and its predecessor conferences, the Western Canadian Intercollegiate Athletic Union and the Western Intercollegiate Athletic Association. It replaced the Halpenny Trophy which was awarded to the University of Alberta to keep in 1950.
For a list of all winners see CWUAA Table of Seasons and Champions for a complete list.
2015 story: