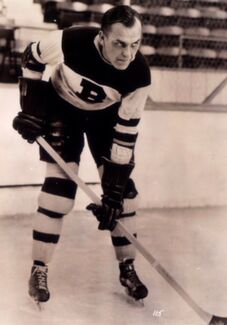 Leighton "Hap" Emms (January 16, 1905 in Barrie, Ontario – October 23, 1988 in Niagara Falls, Ontario) was an ice hockey player, coach, owner, general manager and pioneer of the game. Emms was as controversial as he was successful during close to 60 years in hockey.
He played in the NHL for the Montreal Maroons, New York Americans, Boston Bruins and Detroit Red Wings from 1926 to 1938. In 320 NHL games as a left wing, Emms scored 37 goals and 53 assists with 311 penalty minutes.
He was a head coach of the Omaha Knights from 1939 to 1942 and of the St. Louis Flyers in the 1944-45 AHL season.
He was then the owner and coach of the Barrie Flyers (a Boston Bruins farm team) from 1945 to 1960. He coached his team to winning the Memorial Cup in 1951, with his son Paul and nephew Don on the roster. Emms was opposed to Sunday play in the league and made a lot of enemies on this issue. He later moved the team to become the Niagara Falls Flyers and coached them from 1960 to 1972.
From 1965 through 1967, Emms was the general manager of the NHL Boston Bruins. He succeeded Lynn Patrick and brought such players as John "Pie" McKenzie, Gerry Cheevers and Gary Doak to the Bruins. In addition, he promoted Harry Sinden to coach in 1966, and was the general manager during Bobby Orr's first season in the National League. However, the Bruins failed to make the playoffs during Emms' two seasons, and he was replaced by his assistant, all-time Boston great Milt Schmidt, in the spring of 1967. Emms then returned to Niagara Falls, Ontario, to resume command of his junior hockey club.
In 1972 the Emms family sold the Flyers and immediately bought the neighbouring St. Catharines Black Hawks. Emms later moved the Black Hawks to Niagara Falls in 1976, who became the second Niagara Falls Flyers franchise. After 50 years in hockey, Emms sold the Flyers to Reg Quinn in 1978. He died in 1988 at 83 from heart failure.
The Ontario Hockey League's Emms Division was named in his honour. The Emms Trophy is awarded to the team which wins the OHL Central Division, and formerly awarded to the Western Conference winner. The Emms Family Award is awarded annually to the OHL Rookie of the Year. The Hap Emms Memorial Trophy is awarded to the outstanding goaltender at the Memorial Cup tournament.
External Links