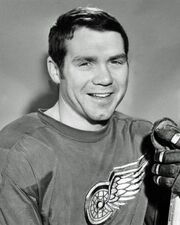 Hank Monteith (born October 2, 1945 in Stratford, Ontario) was a professional ice hockey left winger who played 77 games in the National Hockey League. He played with the Detroit Red Wings.
He played junior hockey for the Stratford Cullitons in 1961-62 and then joined the University of Toronto from 1962 to 1967. The team won the University Cup in 1966 & 1967.
The Detroit Red Wings signed Monteith as a free agent in 1967. He split four seasons between the Fort Worth Wings and the NHL team. In all he played in 77 games for Detroit, scoring 5 goals and 12 assists.
From 1971 to 1975 he played senior hockey for the Orillia Terriers and the Oakville Oaks.
References