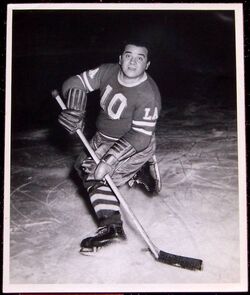 Hank D'Amore (born July 17, 1919 in Niagara Falls, Ontario) is a former Canadian ice hockey centre. He played 4 games in the NHL for the New York Rangers in 1943-44, scoring one goal.
He played junior hockey for the Niagara Falls Cataracts and the Stratford Midgets from 1935 to 1938. He then played senior hockey for the Verdun Maple Leafs, Stratford Majors, and London Mohawks and in the Michigan-Ontario League for the Stratford Canadians, Toledo Babcocks, and Windsor Colonial Tool.
The World War II shortage of players brought him to four games with the New York Rangers in 1943-44. He then played in the Eastern Hockey League from 1943 to 1946. In 1943-44 he served as the player-coach of the Brooklyn Crescents.
D'Amore then finished off his career in the Pacific Coast Hockey League and retired in 1948.
External links
[
]