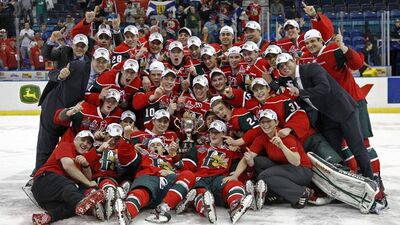 The Halifax Mooseheads are a Canadian major junior ice hockey club in the Quebec Major Junior Hockey League (QMJHL) based out of Halifax, Nova Scotia. The team was founded in 1994 and began play in the Dilio Division of the QMJHL from the 1994–95 season. They have appeared in the President's Cup Finals three times, winning in 2013. The other two appearances were in 2003 and 2005. They hosted the Memorial Cup tournament in 2000, and won the Memorial Cup in 2013. The team plays their home games in the Scotiabank Centre with a capacity of 10,595 seats.
History
The team was first envisioned by Moosehead Brewery Vice President of Sales and Marketing Harold MacKay in 1993, who believed that Halifax could host a QMJHL team. The QMJHL had teams exclusively located in the Province of Quebec, so adding a team in the Maritimes would add to travel costs for the other teams. MacKay was confident that the Halifax franchise could be successful and received financial backing from Moosehead Breweries President and CEO Derek Oland. After careful negotiations by MacKay, the QMJHL expanded to the city of Halifax for the 1994–95 season.In their first year, in 1994, the Mooseheads finished in sixth place and lost in the first round of the playoffs to the Beauport Harfangs, taking the first-placed team to seven games. The Mooseheads and MacKay are considered pioneers for the QMJHL; following the success of the Mooseheads, the League began accepting franchises through relocation or expansion into Atlantic Canada, which lost most of its American Hockey League (AHL) franchises in the mid-1990s. The QMJHL has franchises in Sydney, Nova Scotia, Moncton, New Brunswick, Bathurst, New Brunswick, Saint John, New Brunswick and Charlottetown, Prince Edward Island (the Bathurst, Charlottetown and Sydney franchises were relocations from Quebec). While the League has had success with most of its Atlantic franchises, only the St. John's Fog Devils failed to garner the interest and following and moved to Verdun, Quebec, after the 2007–08 season, which was only their third season in existence. In 2013, the Mooseheads won the President's Cup as champions of the QMJHL. The Mooseheads then went on to compete in the Memorial Cup final in Saskatoon, Saskatchewan, where they faced and defeated the Portland Winterhawks on May 26, 2013 by a score of 6–4, with Nathan MacKinnon recording a hat-trick into an empty net with only 22 seconds left in the game.
Coaches
*interim (regular head coach fired, sick or suspended)
Players
NHL Alumni
Retired numbers
Top scorers
List of top scorers by season.
Yearly results
Season
Games
W
L
T
OL
SL
Pts
Pct %
GA
GA
Standing
1994–95
72
24
42
6
-
-
54
0.375
257
317
6th in Dilio
1995–96
70
32
36
2
-
-
66
0.471
258
262
4th in Dilio
1996–97
70
37
29
4
-
-
78
0.557
267
255
3rd in Dilio
1997–98
70
24
41
5
-
-
53
0.379
263
316
5th in Dilio
1998–99
70
46
20
4
-
-
96
0.686
298
206
2nd in Dilio
1999–00
72
41
20
6
5
-
93
0.611
316
259
2nd in Maritimes
2000–01
72
32
24
10
6
-
80
0.514
235
253
1st in Maritimes
2001–02
72
39
21
9
3
-
90
0.604
267
197
2nd in Maritimes
2002–03
72
44
15
10
3
-
101
0.681
289
206
1st in Maritimes
2003–04
70
17
43
7
3
-
44
0.293
194
274
4th in Atlantic
2004–05
70
42
16
10
2
-
96
0.671
242
172
1st in Atlantic
2005–06
70
35
33
-
1
1
72
0.507
246
258
5th in East
2006–07
70
32
31
-
3
4
71
0.457
269
287
6th in East
2007–08
70
42
23
-
0
5
89
0.600
278
241
1st in East
2008–09
68
19
41
-
3
5
46
0.279
193
290
6th in Atlantic
2009-10
68
13
48
-
3
4
33
0.243
171
288
6th in Atlantic
2010–11
68
20
43
-
2
3
45
0.331
186
262
5th in Maritimes Division
2011–12
68
39
22
-
2
5
85
0.625
250
238
2nd in Maritimes Division
2012–13
68
58
6
-
3
1
120
0.882
347
176
1st in Telus Maritimes Division
President's Cup champion
Memorial Cup champion
2013–14
68
47
18
-
-
3
97
0.713
292
182
1st in Telus Maritimes Division
2014-15
68
32
30
-
4
2
70
0.515
227
242
4th in Maritimes Division
2015-16
68
21
39
-
7
1
50
0.345
193
277
6th in Maritimes Division
2016-17
68
27
35
-
3
3
60
0.441
229
259
5th in Maritimes Division
2017-18
68
43
18
-
6
1
93
0.684
270
223
2nd in Maritimes Division
2018-19
68
49
15
-
2
2
102
0.750
306
189
1st, Martimes Division
2019-20
63
20
38
-
3
2
45
0.333
170
263
5th, Maritimes Division
2020-21
43
15
19
-
5
4
45
.453
152
183
4th, Maritimes Division
Playoffs
Season
1st round
2nd round
3rd round
Finals
1994-95
L, 4–3, Beauport
-
-
-
1995-96
1-5 in round-robin
-
-
-
1996-97
W, 3-1, Beauport
W, 4-3, Shawinigan
L, 4-3, Chicoutimi
-
1997-98
L, 4–1, Rimouski
-
-
-
1998-99
Bye
L, 4-1, Acadie-Bathurst
-
-
1999-00
W, 4-2, Baie-Comeau
L, 4-0, Rimouski
-
-
2000-01
L, 4-2, Rimouski
-
-
-
2001–02
W, 4–3, Rimouski
L, 4-2, Cape Breton
-
-
2002–03
W, 4–0, Cape Breton
W, 4-3, Acadie-Bathurst
W, 4-3, Baie-Comeau
L, 4-3, Hull
2003–04
Did not qualify
2004–05
Bye
W, 4-1, Gatineau
W, 4-0, Rouyn-Noranda
L, 4-0, Rimouski
2005–06
W, 4–2, Lewiston
L, 4-1, Moncton
-
-
2006–07
W, 4–3, Moncton
L, 4-1, Lewiston
-
-
2007–08
W, 4-2, Victoriaville
W, 4-1, Cape Breton
L, 4-0, Gatineau
-
2008–09
Did not qualify
2009–10
Did not qualify
2010–11
L, 4-0, Montreal
-
-
-
2011–12
W, 4-0, Moncton
W, 4-3, Quebec
L, 4-2, Rimouski
-
2012–13
W, 4-0, Saint John
W, 4-0, Gatineau
W, 4-0, Rouyn-Noranda
W, 4-1, Baie-Comeau
2013–14
W, 4-0, Charlottetown
W, 4-1, Gatineau
L, 4-3, Val-d'Or
-
2014–15
W, 4-3, Shawinigan
L, 4-3, Moncton
-
-
2015–16
Did not qualify
2016–17
L, 4-2, Rouyn-Noranda
-
-
-
2017–18
W, 4-1, Baie-Comeau
L, 4-0, Charlottetown
-
-
2018-19
W, 4-3, Québec Remparts
W, 4-0 Moncton
W, 4-2, Drummondville
L, 2-4, Rouyn-Noranda
2019–20
Did not qualify
2020-21
Do not participate
External links