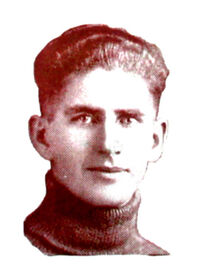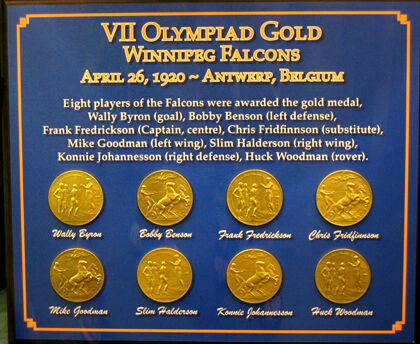 Haldor (Harold) "Slim" Halderson (January 6, 1900 – August 1, 1965) was a Canadian ice hockey right wing who competed in the 1920 Summer Olympics. He was born in Winnipeg.
He played senior hockey with the Winnipeg Ypres in 1917-18 and the Winnipeg Monarchs in 1918-19 before winning the Allan Cup with the Winnipeg Falcons in 1920. The Falcons then went to the 1920 Olympics and won the gols medal.
Halderson then turned played one more season of senior with the Saskatoon Crescents and then turned pro with the Victoria Cougars of the Pacific Coast Hockey Association in 1921-22. He stayed with that team until it folded in 1926, winning a Stanley Cup in 1925.
The Victoria team was sold to the NHL's Detroit Cougars and Halderson went along in 1926-27. He was traded to the Toronto Maple Leafs in mid-season. That season, his only one in the NHL, Halderson scored 3 goals and 2 assists in 44 games.
He spent the rest of his career in the minor pros. 1927-28 and 1928-29 were in the Canadian American Hockey League and then Halderson moved to the American Hockey Association until he retired in 1937.
Halderson is an honoured member of the Manitoba Hockey Hall of Fame.
Awards & Achievements
[
]
External links
[
]