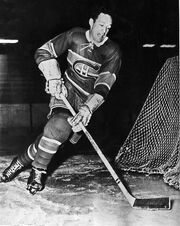 Harold Richardson "Hal" Laycoe (June 23, 1922 in Saskatoon, Saskatchewan - April 29, 1998) was a Canadian defenceman.
Laycoe started out playing junior and senior hockey in his native Saskatoon. He started his NHL career with the New York Rangers in 1945-46 and was traded to the Montreal Canadiens in 1947. Laycoe finished of his playing career with the Boston Bruins who acquired him in 1951. He retired in 1956. He scored 25 goals and 77 assists in 531 NHL games.
Laycoe was the main proponent, along with Maurice Richard in the events of March 13, 1955 which precipitated the "Richard Riot."
Laycoe coached the New Westminster Royals of the Western Hockey League in 1956–57 and remained with the franchise when it moved to Portland, Oregon for the 1960–1961 season and was renamed the Portland Buckaroos. The Buckaroos won the league championship Lester Patrick Cup its first year in existence. Laycoe coached the Buckaroos for nine seasons and won another league championship in 1964–1965. In 1969, Laycoe moved to the National Hockey League, coaching the Los Angeles Kings for part of one season and then moving on to the expansion Vancouver Canucks for two more seasons.
Gallery
External Links