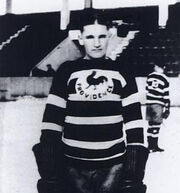 Leland Kitteridge "Hago" Harrington (born October 13, 1903 in Melrose, Massachusetts - died October 1, 1959) is a retired American professional ice hockey forward who played 66 games in the National Hockey League for the Montreal Canadiens and Boston Bruins.
He began his career with the amateur Boston AA Unicorns from 1923 to 1925. The Bruins signed him as a free agent in 1926. Harrington played full seasons with the Bruins in 1925-26 and 1927–28 and played in 1926-27 with the New Haven Eagles.
The Bruins sold Harrington for cash to the Providence Reds in 1928 and he played eight seasons for the minor pro team. The string was interrupted in 1932-33 when he was dealt to the Montreal Canadiens and played 24 games for Montreal. He then returned to Providence and retired in 1936.
He played in 72 NHL games and scored 9 goals and 3 assists.
Harrington served as the coach of the Boston Olympics from 1940-41 through 1947-48.
External links
[
]
Hago Harrington's career stats at The Internet Hockey Database