AZ Havířov

City:
Havířov, Czech Republic
League:
Chance Liga
Founded:
1928
Home Arena:
Gascontrol Aréna
Colors:

    

    

    

Head Coach:
Jiří Režnar
General Manager:
Pavel Zdráhal
Franchise history
1928:
KČT Lazy
1948:
Sokol Lazy
1953:
Baník Zápotocký
1966:
AZ Havířov
1993:
HC Havířov
1999:
HC Femax Havířov
2001:
HC Havířov Panthers
2010:
AZ Havířov
AZ Havířov is an ice hockey team in the Chance Liga (second-level league) from Havířov.
The city of Havířov was established in 1955. However the beginnings of ice hockey in surrounding villages date back to 1928, when workers began to skate on local ponds after their shift. The hockey club was registered in 1931 as KČT Lazy, named after the Lazy Coal Mine. In 1966 the club moved to Havířov and was given the name AZ Havířov after Antonín Zápotocký Coal Mine. In 1992 the club was promoted to the second level league.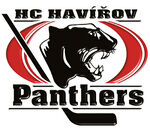 In 1999 the club bought the Extraliga license from Slezan Opava. In the 2002/2003 season Havířov lost the relegation play-off against HC Kladno and was relegated to the First National Hockey League. Since that time the club was constantly haunted by financial problems. Finally, in January 2010 the club announced insolvency and the remaining games were lost by forfeit.[1] According to the ice hockey federation rules, the club is automatically relegated to the lower division, i.e. the Second National Hockey League.[2] As of March 2010 only junior-level hockey in Havířov existed. Later that year was the team reestablished. Now it is playing in the Chance Liga.
Actual Roster
[
]
Position
Number
Name
Born
Age
Height
Weight
Shoots/Catches
G
#2
Dominik Groh
March 20, 1998
22
6ft 3in (190cm)
212lb (96kg)
L
G
#1
Aleš Stezka
January 6, 1997
24
6ft 4in (193cm)
201lb (91kg)
L
G
#1
Marek Štipčák
September 6, 2001
19
6ft 0in (182cm)
198lb (90kg)
L
D
#15
Antonín Bořuta
October 26, 1988
32
6ft 1in (185cm)
176lb (80kg)
L
D
#5
David Chroboček
August 19, 1996
24
5ft 9in (176cm)
201lb (91kg)
R
D
#23
Tomáš Dajčar
February 2, 2000
21
6ft 4in (194cm)
209lb (95kg)
L
D
#41
Radek Havel
May 30, 1994
26
6ft 1in (186cm)
214lb (97kg)
L
D
#33
Ondřej Kachyňa
April 30, 1998
22
6ft 5in (195cm)
203lb (92kg)
L
D
#20
Fabien Kočí
October 17, 2002
18
5ft 11in (180cm)
181lb (82kg)
R
D
#22
Jaroslav Mrowiec
October 2, 1998
22
6ft 5in (195cm)
232lb (105kg)
L
D
#4
Alex Rašner
February 12, 1996
25
5ft 11in (180cm)
179lb (81kg)
L
D
#7
Vojtěch Ševěček
November 7, 2000
20
6ft 3in (191cm)
201lb (91kg)
L
F
#83
Martin Adamský
July 13, 1981
39
6ft 0in (183cm)
192lb (87kg)
L
F
#17
Jan Bambula
December 20, 2000
20
5ft 10in (177cm)
161lb (73kg)
L
F
#41
Lukáš Bednář
September 26, 1996
24
5ft 9in (175cm)
154lb (70kg)
R
F
#66
Ondřej Becher
February 22, 2004
17
6ft 0in (183cm)
161lb (73kg)
L
F
#42
Dominik Cihlář
February 18, 1998
23
5ft 11in (181cm)
194lb (88kg)
L
F
#19
Jakub Doktor
June 18, 1997
23
6ft 0in (183cm)
181lb (82kg)
R
F
#12
Petr Fridrich
May 29, 2000
20
6ft 1in (186cm)
194lb (88kg)
L
F
#66
Kevin Horváth
June 17, 2003
17
5ft 10in (179cm)
168lb (76kg)
R
F
#77
Ivan Ivan
August 20, 2002
18
5ft 11in (180cm)
172lb (78kg)
L
F
#17
Jan Kloz
March 7, 1987
34
5ft 9in (176cm)
181lb (82kg)
L
F
#17
Matěj Kořenek
May 5, 2000
20
5ft 11in (181cm)
159lb (72kg)
L
F
#17
Jakub Kotala
June 15, 1996
24
6ft 2in (187cm)
187lb (85kg)
L
F
#6
Tomáš Krupa
April 8, 2001
19
6ft 0in (183cm)
179lb (81kg)
L
F
#41
Vojtěch Lednický
May 30, 2001
19
5ft 9in (176cm)
170lb (77kg)
R
F
#10
Jan Maruna
January 28, 1989
32
5ft 10in (178cm)
176lb (80kg)
R
F
#6
Maxim Mastič
November 1, 2002
18
5ft 8in (172cm)
154lb (70kg)
L
F
#57
Jakub Mrva
November 21, 2000
20
5ft 9in (176cm)
161lb (73kg)
L
F
#77
Ján Petriska
April 27, 2001
19
5ft 10in (178cm)
172lb (78kg)
R
F
#28
Ondřej Procházka
August 31, 1997
23
6ft 1in (185cm)
196lb (89kg)
L
F
#7
Radek Prokeš
January 22, 1995
26
6ft 1in (185cm)
181lb (82kg)
L
F
#20
Tomáš Rousek
September 14, 1997
23
6ft 3in (190cm)
190lb (86kg)
L
F
#23
Jan Rudovský
January 6, 1987
34
6ft 0in (182cm)
192lb (87kg)
R
F
#24
Filip Seman
November 15, 1985
35
5ft 10in (178cm)
183lb (83kg)
L
F
#69
Roman Szturc
September 25, 1989
31
6ft 1in (186cm)
198lb (90kg)
R
F
#20
Jan Vašenka
July 20, 2001
19
6ft 0in (182cm)
168lb (76kg)
L
Average
24
6ft 0in (183cm)
185lb (84kg)
Coaches and Training Stuff
[
]
| Role | Name | Born | Age |
| --- | --- | --- | --- |
| Club manager and assistant coach | Pavel Zdráhal | June 21, 1971 | 49 |
| Marketing manager | Martina Kotulová | | |
| Head coach | Jiří Režnar | January 31, 1960 | 61 |
| Goaltending coach | Dušan Šafránek | April 21, 1986 | 34 |
| Conditioning coach | Pavel Horyl | | |
| Team manager and equipment manager | Vladislav Kozel | | |
| Physioterapist | Evžen Buščík | | |
| Masseur | Lubomír Pala | | |
| Doctor | MUDr. Marek Solák | | |
| Doctor | MUDr. Tomáš Gongol | | |
References
[
]
External links
[
]