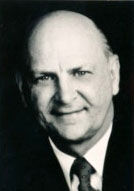 H. Wayne Huizenga is an American businessman who grew Blockbuster Video and Waste Management into successful companies. He was the original owner of the Florida Panthers.
Sports team ownership
Huizenga is notable for introducing both baseball and hockey to the South Florida area as the initial owner of the Florida Marlins and Florida Panthers. He was criticized for naming his two teams for the state of Florida rather than the city of Miami, but as an advocate for the city of Fort Lauderdale, he explained that his goal was to include Broward County and Palm Beach County in his teams' fanbase. (Indeed, Huizenga claimed at the time that he had not even considered naming the teams after "Miami" as an option, and that in his view the only legitimate choices had been "Florida," "South Florida," and "Tri-County.") This goal of expanding the team's fan bases has not been achieved, as both the Marlins and Panthers have consistently finished near the bottom of their respective leagues in annual home attendance; the name has had little observable impact on the teams' popularity in Huizenga's favored suburbs, while decreasing their popularity among fans who identify themselves with the city of Miami.
Huizenga operated the Panthers as a public holding company, buying numerous real estate properties in the name of his Panthers Holding Group. In 2001, Huizenga sold the Panthers to pharmaceutical juggernaut and friend Alan Cohen and his partner, former Cleveland Browns quarterback Bernie Kosar, for a discount price. However, Huizenga maintained his status as owner of the BankAtlantic Center, from which he still collects all arena revenue.