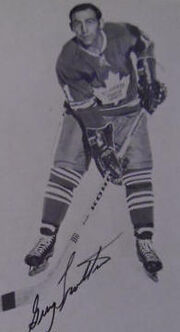 Guy Trottier (born April 1, 1941 in Hull, Quebec - died June 29, 2014) was a retired professional ice hockey player who played 115 games in the National Hockey League and 174 games in the World Hockey Association. He played for the Toronto Maple Leafs, New York Rangers, Ottawa Nationals, Toronto Toros, Michigan Stags, and Baltimore Blades.
In the NHL he scored 28 goals and 17 assists in 115 games. In the WHA he played in 174 games, scoring 62 goals and 75 assists.
He led the American Hockey League in goal scoring in 1968-69 and 1969-70.
Trottier was player-coach of the Buffalo Norsemen in 1975-76 and coached the Hull Olympiques and the Dayton Jets. He was also an assistant coach for the Dayton Bombers.
Gallery
[
]
References
[
]