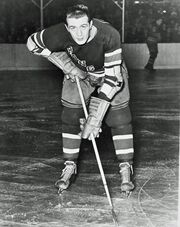 Guy Labrie (born August 11, 1920) is a retired Canadian professional ice hockey player who played 42 games in the National Hockey League for the Boston Bruins and New York Rangers. He was born in St-Charles Bellechasse, Quebec.
He played senior hockey in 1939-40 with the Quebec Castors and in 1940-41 with the Valleyfield Braves. After sitting out a year, Labrie joined the Boston Bruins in 1942-43, scoring 2 goals and 7 assists in 15 games. The Bruins sent him down to the Boston Olympics, where he stayed until his rights were sold to the New York Rangers in November, 1944. He played in 27 games for the Rangers that season, scoring 2 goals and 2 assists.
In all he played in 42 NHL games and scored 4 goals and 9 assists.
After spending 1946-47 in the American Hockey League, Labrie joined the Quebec Aces in 1947-48. In 1949 he was traded to the Sherbrooke Saints for Herb Carnegie. He stayed with the Saints through the 1952-53 season.
Labrie played with Riviere du Loup of the Lower St Lawrence League in 1953-54 and then retired,
External Links