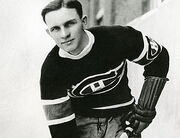 Augustus George Rivers (born November 19, 1909 in Winnipeg, Manitoba - October 15, 1985) was a Canadian ice hockey forward.
Rivers played his entire National Hockey League career with the Montreal Canadiens.
He started out with the junior Winnipeg Victorias and the Elmwood Millionaires from 1925 to 1928. In 1928-29 Rivers played for the University of Manitoba.
The next year he started out with the senior Winnipeg Winnipegs but was signed by the Montreal Canadiens as a free agent in January, 1930. Rivers won the Stanley Cup that year and the next.
Rivers played with the Canadiens at the start of the 1931-32 season but was sent down to the Providence Reds in mid-season. He played for the Reds until he retired in 1937.
Awards and Achievements
[
]
Gallery
[
]
External Links
[
]