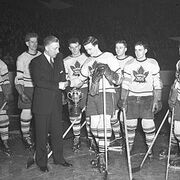 August "Gus" Bodnar (April 24, 1923, Fort William, Ontario – July 1, 2005, Oshawa, Ontario) was a Canadian professional centre who played 12 seasons in the National Hockey League for the Toronto Maple Leafs, Chicago Black Hawks and Boston Bruins.
Playing Career
A native of Fort William, Ontario, Bodnar played for the Fort William Hurricanes-Rangers of the Thunder Bay Junior Hockey League for three seasons from 1940-43. . He turned pro with the Toronto Maple Leafs in 1943-44, winning the Calder Memorial Trophy as the NHL's best rookie. Bodnar played 4 seasons with the Leafs and won 2 Stanley Cups (1945 & 1947).
Bodnar was traded (with others) to the Chicago Black Hawks in 1948 for Max Bentley. He played seven years for the club before being traded to the Boston Bruins for Jerry Toppazzini in 1954. He retired in 1955.
Bodnar came back to coach. Bodnar was the Coach and Manager of the Toronto Marlboros from 1967 to 1968, Head Coach of the Salt Lake Golden Eagles in the WHL from 1970 to 1971, Head Coach of the Oshawa Generals in the OHA from 1971 to 1976, and many other Junior Teams.
Bodnar played in the 1951 NHL All-Star Game, and was the recipient of the 1971-72 OHA Coach of the Year Award. On July 1, 2005, Bodnar died in Oshawa, Ontario, Canada.
Awards & Achievements
1943–44 Calder Trophy Winner
1993 Northwestern (Ontario) Sports Hall of Fame.
1995 Oshawa Sports Hall of Fame
Records
On Oct. 30, 1943, his first game, he set the record for fastest goal by a player in his first NHL game.
On March 23, 1952, set the record for the fastest three assists (21 Seconds). Bill Mosienko scored all three goals.
Video
Highlights of the February 28, 1948 game between the Toronto Maple Leafs and Chicago Black Hawks at Maple Leaf Gardens. Goals by Gus Bodnar on Turk Broda as well as Max Bentley and Joe Klukay on Emile Francis are shown in the Leafs 4-3 victory.
External Links