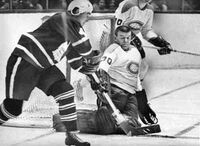 Lorne John "Gump" Worsley (b. May 14th 1929 in Montreal, Quebec - d. January 26th 2007 in Saint-Hyacinthe, Quebec) is a former professional goaltender who played in the National Hockey League for the New York Rangers, the Montreal Canadiens and the Minnesota North Stars.
Playing Career
Worsley made his NHL debut in 1952, playing for a miserable New York Rangers team. Even though New York finished last in the league, Gump was rewarded with the Calder Memorial Trophy. Despite this outstanding performance however, Worsley was shocked to learn the following season he was being sent to the Vancouver Canucks of the old Western Hockey League, the Rangers preferring Johnny Bower to him (meanwhile, Worsley had been named WHL's MVP and won the league championship with Vancouver). In 1954 however, Worsley was back in New York and would outplay Bower, earning the team's starter role for nearly a decade, often being the lone bright spot on an abysmal team - he would himself describe his stay in New York as "a jailhouse".
His involvement in a proposed players' union in the summer of 63 resulted in a quick trade to the Montreal Canadiens, where he played his best hockey and was a Stanley Cup winner in 1965, 1966, 1968 and 1969. He shared the Vezina Trophy with Charlie Hodge in 1966; he repeated the feat in 1968, this time sharing it with Rogatien Vachon.
A nervous breakdown suffered in 1969 due to his fear of flying nearly put an end to his career. However, the Minnesota North Stars took a chance and picked up Worsley's rights. They successfully brought him back to the game by assuring him that the Central Division North Stars had much less travel than other teams and it paid off. The duo of Worsley-Maniago starred for the young North Stars until Gump retired at the age of 44 in 1974.
Worlsey was inducted to the Hockey Hall of Fame in 1980. He died of a heart attack on January Monday 22, 2007 at the age of 77.
Gallery
External Links