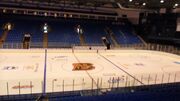 U.S. Cellular Coliseum
Location
101 S. Madison St.
Bloomington, Illinois 60701
Opened
April 1, 2006
Owner
City of Bloomington
Operator
Central Illinois Arena Management, LLC
Construction cost
$37 million
Tenants
Bloomington Extreme (Indoor Football League)
Bloomington Prairie Thunder (International Hockey League)


Illinois State University

Redbirds

Hockey Club (Mid-American Collegiate Hockey Association)
Capacity
Hockey & Indoor Football: 7,000
Concerts : 8,000
The Grossinger Motors Arena formerly the U.S. Cellular Coliseum is an arena in downtown Bloomington, Illinois that opened to the public on April 1, 2006. It is on the southwest corner of Madison Street (US-51) and Front Street. It hosts the Bloomington Extreme of the Indoor Football League and the Bloomington Prairie Thunder of the International Hockey League. The arena's seating capacity is approximately 7,000 for hockey and indoor football games and 8,000 for concerts. The arena also has a basketball floor and a sand volleyball floor. The U.S. Cellular Coliseum is also home to the Illinois State University Redbirds Hockey Club The Redbirds play in the Mid-American Collegiate Hockey Association (MACHA) Gold Division. They were founding members in 1967. The team is a member of the American Collegiate Hockey Association (ACHA), Division II, Central Region. Attached to the arena is the Pepsi Ice Center, which is a public ice rink run by Bloomington Parks & Rec. The center features open skating, as well as lessons and hockey leagues.
Opinion of the Coliseum has been split. Many citizens of the Bloomington-Normal area frequent the venue, and others acknowledge its contribution to the community. Others, however, oppose the arena, citing city bond payments, which are common in such projects, as a drain to the local budget. Because of these payments, the city has had to cut from other areas of the budget.
The arena was renamed as part of a sponsorship deal in June of 2017 to the Grossinger Motors Arena. This agreement is a five year $175,000 per year agreement.
External links
[
]