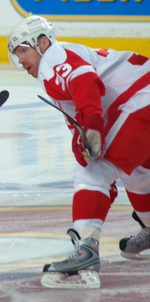 The Grind Line refers to a forward line of the Detroit Red Wings of the National Hockey League. Red Wings head coach Scotty Bowman modeled it after the Crash Line of the 1995 Stanley Cup champion New Jersey Devils and other grind lines preceding it.
Originally, the Grind Line in Detroit consisted of three players, Kris Draper, Joe Kocur, and Kirk Maltby, during the Red Wings heyday in the late-1990s. During the 1997 Stanley Cup Finals, the line was effective against the Philadelphia Flyers famous "Legion of Doom" line that featured Eric Lindros, John LeClair, and Mikael Renberg. After the 1997 season, Darren McCarty replaced Joe Kocur as the third linemate. The line was effective at "grinding" and wearing against the opposition's top scoring line by provided an enforcing presence, helping the team win three Stanley Cups.
After the NHL lockout in 2005, Darren McCarty's contract was bought out by the team, breaking up one of the most famous lines in Detroit Red Wings history. Detroit has struggled to find a line which has the same effect as the Grind Line did in the past. Whether the efforts have been successful is a topic of much contention and debate amongst Red Wings fans and sports analysts.
In the 2007–2008 season, the Detroit Red Wings re-signed Darren McCarty and after a brief stint with the Grand Rapids Griffins, he rejoined the Detroit Red Wings for the end of the regular season and the playoffs. In his first game back on March 29, 2008 versus the St. Louis Blues, head coach Mike Babcock sent out his starting line of Darren McCarty, Kris Draper, and Kirk Maltby, reuniting the "Grind Line" one last final time.
See also