The Gretzky family, originally from Brantford, Ontario, Canada, is one of the most famous hockey families in Canada. Brent and Wayne Gretzky hold the NHL record for most points scored by a pair of brothers — 2,857 by Wayne, four by Brent.
Walter Gretzky
Walter Gretzky (born October 8, 1938-March 4, 2021) was the patriarch of the Gretzky clan. He was the father of five children, including his three sons in the NHL, another son, Glen, and a daughter, Kim. Five days after his 53rd birthday in 1991, he suffered a near-fatal brain aneurysm which destroyed his long-term memory. His physical therapist, Ian Kohler, married his daughter Kim in 1995. His ordeal is the basis of the CBC movie Waking Up Wally: The Walter Gretzky Story. He spends his time helping charities and fundraisers and coaching at his summer youth hockey camp in California. In his book Walter recounts that during his recovery from his brain aneurysm, the only language he could speak was Ukrainian.
From September 2004 to January 2005, Walter was an assistant coach for the University of Pittsburgh inline hockey team. A long time friend of head coach Bob Coyne, Walter was an assistant along with Bob Bradley and Tim Fryer. [1]
Fans come to his house to see his basement, stuffed with mementos from Wayne's amateur career, and his backyard, which, every winter, was turned into a "rink" Walter taught his sons and their friends hockey on. He has written two books: On Family, Hockey and Healing (2003), and Gretzky: From Backyard Rink to the Stanley Cup (1985), in which he recounted how he recognized Wayne's prodigious skills and shaped him into the most prolific scorer in hockey history. Walter Gretzky was named to the Order of Canada on 28 December 2007.[2]
Walter passed away March 4, 2021 in Brantford, Ontario after suffering a fall three weeks earlier.
First generation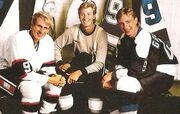 Wayne
Keith
After a moderately successful career in the OHL with the Brantford Alexanders, Windsor Spitfires, Belleville Bulls, and Hamilton Steelhawks, Keith was taken in the 3rd round (56th overall) of the 1985 NHL Entry Draft by the Buffalo Sabres. His best season came in 1984–85 when he recorded 31–62–93 in 66 games with Windsor. In 298 OHL games, he collected 113 goals, 222 assists and 335 points. Keith did get on the cover of The Hockey News, and a spot in Sports Illustrated's Faces In The Crowd when he was 13. After retiring from professional hockey in 1993, Gretzky turned to coaching and began his career behind the bench with the Tri-City Americans (WHL) as an assistant coach. Keith was appointed to Director of Amateur Scouting for the Phoenix Coyotes on July 12, 2006.[3] On July 28, 2011, he was hired by the Boston Bruins.[4]
Brent
Brent Gretzky played in the National Hockey League (NHL) for the Tampa Bay Lightning. During Gretzky's 13-game stint with Tampa Bay, he played once against the Los Angeles Kings, and his brother Wayne. On January 18, 2008, Gretzky made his debut playing in Major League Hockey with his hometown Brantford Blast team. On April 19, he won the Allan Cup with the Blast.
Second generation
Ty Robert Gretzky (born July 9, 1990), son of Wayne, skated briefly for a team at Chelsea Piers in New York while his father played for the New York Rangers.[5] During 2005-06, he lived with his father in Phoenix and had 24 goals and 37 points in 16 games for the Brophy College Preparatory junior varsity team in Phoenix. He missed the league scoring title by a point. Ty also played hockey at Shattuck-Saint Mary's,[6] in 2006 but quit, and returned home. He now attends Arizona State University. In 1992, the Upper Deck company produced a card of Ty Gretzky with the words Young Guns on the front. Ty was only two years old when the card was produced
References