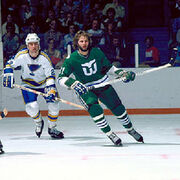 Gregory John Carroll (born November 10, 1956 in Gimli, Manitoba) is a retired Canadian ice hockey centre.
He had an excellent junior career with the Medicine Hat Tigers and scored 60 goals and 111 assists in 71 games in 1975-76.
Drafted in 1976 by both the Washington Capitals of the National Hockey League and the Cincinnati Stingers of the World Hockey Association, Carroll chose to play with the Stingers. He would also play for the New England Whalers. After playing two seasons in the WHA, he signed with the Capitals. He also played for the Detroit Red Wings and Hartford Whalers.
Carroll never reached his potential in the pros. A 15 goal season with the Cincinnati Stingers in 1976-77 was his best. He moved back to the NHL in 1978 but only lasted two seasons. He retired in 1980.
External links