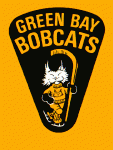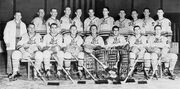 The Green Bay Bobcats were a minor pro and then a junior team in Green Bay, Wisconsin. They played most notably in the United States Hockey League (USHL) throughout its existence from 1961 to 1979. They played their first season in the Mid-America Hockey League in 1958-59.
The Bobcats played their home games in the Brown County Veterans Memorial Arena which opened in 1958. The team started playing when the arena opened.
Their first season was in the Mid-America League. They played as an independent (non-league) team ifrom 1959 to 1961 before joining the USHL. They won the USHL title in 1962-63 and 1971-72. In 1969 they were designated as the United States team at the 1969 World Championship and lost all 10 games at the tournament.
In 1979 the USHL changed to a Junior league from a pro circuit. The Bobcats remained in the league for two more seasons before folding.