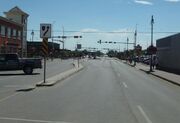 Grande Prairie is a city of over 50,000 in northwestern Alberta, Canada.
Teams
(Rocky Mountain Junior Hockey League, 1995-1996) join Alberta Junior Hockey League
(Alberta Junior Hockey League, 1996-present)
Arenas
The first ever games in the town took place on Saskatoon Lake around around the year 1915.  The town's first indoor rink was the 70'x100' Wapiti Arena which was located near the Canada Games Arena.  The arena would collapse during the 1940's and would be replaced by the Grande Prairie Memorial Arena which opened in December of 1949.
Crystal Park School Rink
Crystal Centre
Swanavon School Rink
Dave Barr Arena
Montrose Jr. High School Rink
Alexander Forbes School Rink
Hillside School Rink
Grande Prairie Memorial Arena
Players
External Links