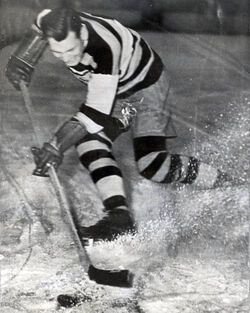 Gordon Donald "Tony" Savage (July 18, 1906 – February 28, 1974) was professional ice hockey defenceman and coach who played 49 games in the National Hockey League. He played with the Boston Bruins and Montreal Canadiens. He was born in Calgary, Alberta.
He played for the Memorial Cup-winning Calgary Canadians in 1925-26 and turned pro in 1926-27 with the Calgary Tigers of the Prairie Hockey League. Savage played in the minors until 1934-35 when he was called up during the season. He played in 8 games with the Boston Bruins in 8 games and 41 games for the Montreal Canadiens. In 1935-36 he played for the Calgary Stampeders.
Savage then sat out the 1936-37 in order to become a reinstated amateur. After that he played three seasons with senior teams in Saskatchewan from 1938 to 1940.
After retirement Savage turned to coaching. He was the coach of the Providence Reds in 1946-47. After that he coached the Fort Worth Rangers from 1947 to 1949.
Community content is available under
CC-BY-SA
unless otherwise noted.