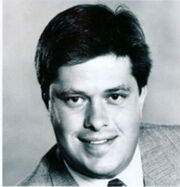 Gord Stellick (born May 26, 1957 in Toronto, Ontario) is a Canadian sports broadcaster and former NHL executive.
Stellick was the General Manager of the Toronto Maple Leafs from April 1988 until August 1989. At the age of 30, he was the youngest GM in NHL history. He resigned on August 11, 1989, citing interference from Maple Leaf's owner Harold Ballard. Stellick was then hired by the New York Rangers as an assistant GM, but was fired in 1991.
Stellick co-wrote, with Damien Cox, the book '67: The Maple Leafs, Their Sensational Victory and the End of an Empire, (ISBN 0-470-83850-7) about the last season the Toronto Maple Leafs won the Stanley Cup.
Community content is available under
CC-BY-SA
unless otherwise noted.