Honoured Member of the Manitoba Hockey Hall of Fame - Builders Category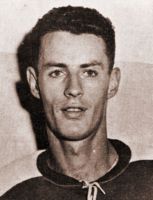 Hometown: Weston, Winnipeg, Manitoba
Died: September 13, 2015 at Winnipeg, Manitoba
Position: Center & Coach
Born in Winnipeg, played for the Winnipeg Canadiens of the MJHL in 47 & 48. Played last junior season with the Barrie Flyers, winning league championship. Turned pro with AHL Buffalo in 49-50 and played seven seasons with the Bisons. One of nine Manitoba players to appear in the first AHL All-Star game on October 27, 1954. Began coaching career in 1959 with the MJHL Winnipeg Rangers and in 1961 led club to the Western Canada final and the Charlie Gardiner Memorial Trophy in 1967. Coached the WHL Winnipeg Clubs in 1973-74 and another seven seasons in Winnipeg minor system before retiring in 1982.
MJHL Goal Scoring Leader (1948)
Ontario Hockey Association Junior A Champion (1949)
Played in inaugural American Hockey League All-Star game (1954)
Ontario-Minnesota Hockey League Scoring Champion (1958 & 1959)
Ontario-Minnesota Hockey League First All-Star Team (1958 & 1959)
Ontario-Minnesota Hockey League Championship (1958 & 1959)
Turnbull Cup Manitoba Junior Hockey League Championship (1961)
Coached in MJHL / SJHL All-Star Game (1962)
MJHL All-Star Team Coach (1962)
Inducted into Manitoba Hockey Hall of Fame (2007)
Community content is available under
CC-BY-SA
unless otherwise noted.