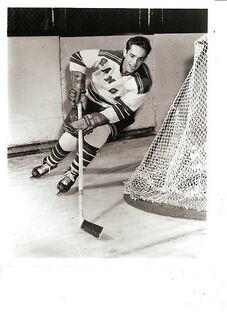 Glen Robert Sonmor

is a former professional player, scout and coach.
Sonmor was a left winger who played two seasons (1953–1955) in the National Hockey League for the New York Rangers. Sonmor was considered a highly physical player known for his fighting abilities, but suffered a career-ending injury to his left eye in 1955 when he was hit by a slap shot from teammate Steve Kraftcheck.
Sonmor coached at various levels in junior ice hockey, at Ohio State University, and at the University of Minnesota. He joined the fledgling Minnesota Fighting Saints of the World Hockey Association as coach and general manager in 1972. Sonmor gave up coaching duties in the middle of the 1972–73 season, but continued as GM. After the original Fighting Saints folded in 1976, the WHA's Cleveland Crusaders moved to St. Paul and changed their name to the New Minnesota Fighting Saints. Sonmor was hired as the New Saints' coach and general manager. The New Saints folded in January 1977. Sonmor later coached the WHA's Birmingham Bulls.
Sonmor was head coach of the Minnesota North Stars of the National Hockey League for four seasons, leading the team to the 1981 Stanley Cup Finals, only to lose in five games to the New York Islanders.
Sonmor was awarded the Lester Patrick Trophy in 2006.
Traded to Cleveland (AHL) by NY Rangers with Eric Pogue for Andy Bathgate and Vic Howe, November 15, 1954.
Manitoba Junior Hockey League Assist Leader (1949)
Manitoba Junior Hockey League Second All-Star Team (1949)
Turnbull Cup Manitoba Junior Hockey League Championship (1949)
Abbott Cup Western Canada Junior A Hockey Championship (1949)
United States Hockey League Championship (1950)
Calder Cup American Hockey League Championship (1951 & 1953)
Community content is available under
CC-BY-SA
unless otherwise noted.